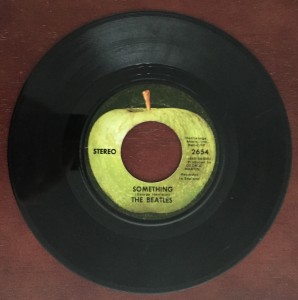 Whether you work with me in business or in the music industry, you know one certain thing about me – that I love music. And, it ties to all I do. I remember that day when I was eleven, home alone in my room listening to my father's records from years gone by. Much like today, I was missing him but had his music to always connect us. That was the day my world changed.
We had a routine with music, always listening to the same tunes. I was always different and while I love the familiar, I love an adventure even more. I flipped over the familiar "Come Together" single to explore. I remember the moment the needle hit the vinyl. I'll never forget how that song made me feel. It was "Something", the most beautiful song I'd ever heard. I stopped everything and sat to absorb every note, every sound. It was the first song that made me cry. And, it was the first song that I played by ear before I knew what that was. It was so beautiful. It touched me on every level. I had to create it, to experience it somehow from the inside. Music was important before that – but once I had that feeling, it has never been the same.
This song remains one of my favorites today and touches my heart every time I hear it. It was that day I fell more deeply in love with music. It was mine, my special love, me.
That day, I swore I had discovered The Beatles. That day, I became an ambassador. I remember thinking that if anyone heard this amazing song, they wouldn't be able to stop thinking about it or listening to it! How was it I'd never heard of it? Well, I was just eleven. But, the point is, there are people that will fall in love with what you do if your product is good enough – if they experience it.
About now you're wondering what this has to do with business or with life. Everything connects and we can learn important lessons everywhere if we keep our minds open. The Beatles give us some great lessons about how to build a loyal following and a powerful, enduring brand. Here are a few ideas for you from my story and theirs:
Never lose the curiosity of a child. It will take you on the most incredible journeys and it will be the thing that will give you new passion for life, new ideas, new solutions to old problems and new products.
If you've lost it, you can get it back. Shut off the world awhile. Turn off your phone. Unplug. Take a long walk and meditate in the sun. Let yourself feel, breathe, experience instead of thinking and doing. Write. Get somewhere alone and feel the music – listen to an album from end-to-end, without interruption. Take a break from the world and just be.
Great products endure – with the right circumstances. They may shift, evolve, springboard into something else when the world around them evolves. Even so, they live on in one way or another. Focus on creating something great.
Creating great products is not enough. Whether music, services or products, people have to try them. And, you have to keep creating and promoting more. I hear so many entrepreneurs and musicians complain about marketing, social media, and promotions. So many hate it. Why? They see it as a chore, something so far from their art, their act of creating. Time to wake up folks. Embrace it. Fall in love with it. The only way you'll get to do what you love more is if the money is coming in to fund it. This is part of the deal. Stop fighting it. As long as you "hate" it, you'll subconsciously resist it. Connect the dots between it and your future.
Being great in your industry or at your craft doesn't mean you'll be great as a marketer. You can do part yourself and must for people to connect with you. That's part of the appeal. Get a team around you. Seek counsel. Get people to help you with the things you're not trained to do or don't like – and hire people to do some of the legwork. Treat it like a business and respect it like your craft.
Giveaways, promotions and product trials matter, but go for quality not just quantity. I remember hearing that a famous artist gave away thousands of flash drives with his music and only a tiny percentage ever accessed the songs. It isn't just about giving product away – but if you do find a way to expose your music or products in such a way that it introduces people to you and builds your following for the future, that's the value that many underestimate. It isn't just about instant sales. It is about creating an enduring customer or fan base. Again, get some help! I'll be writing more about this so stay tuned and sign up for my blog if you haven't yet!
Great brands have emotional appeal. If you can create an experience around your product and you that's special and memorable, people will associate you with those feelings and want more. It is the power of a brand. From rockstar CEO's to rockstars performing on stages around the world, the fundamentals are the same. This is a big topic and one I'll write about again soon.
So on this day, I salute George Harrison, during the anniversary week of his passing, and The Beatles – thank you for sticking with it, even when it wasn't easy. I salute my dad, music and the countless, passionate people who create it. You've changed my life and fill my world with beauty, love and joy. I will always be grateful. If I took every moment of every day to thank you, it would never be enough. I give you my love and my support always. In my way, I will do my part to make sure the music never dies. And, I will never lose my passion for what I do, for life, and for you.
All my love,
Nina